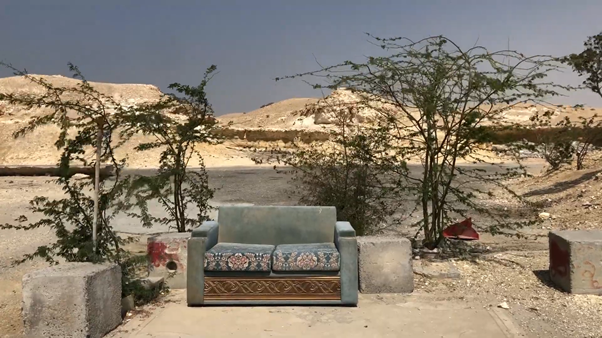 'A PLACE FOR SITTING'
1ST DECEMBER 2021 – 28TH JANUARY 2022
The RePUBlic Gallery is pleased to present 'A Place for Sitting', an exhibition by Chantal Makar.
Chantal is an artist based in Newcastle Upon Tyne. Makar works largely with film, documenting the unnoticed moments of our daily lives. These short films work to reveal the universality and peculiarity of human habit and routine. Her recent project has centered around cultural and community sites both in the UK and in Bahrain, where Makar grew up.
Taken from the literal translation of the Arabic word 'majlis', 'A Place for Sitting' explores the social and cultural importance of having spaces within the community to come together. 'A Place for Sitting' cuts between the Bahraini majlis and St Teresa's, a Catholic Social Club in Heaton, where Makar works and drinks.
Narrated by Makar's father, 'A Place for Sitting' provides an intimate reflection on these two sites and the many commonalities they share. Makar zooms in on the remnants of activity and conversation, detailing the same densely patterned fabrics, worn seat pads and frayed seams. These scenes, empty of people, reveal the impact of the pandemic and stress the importance of these spaces being open for both the community and the individual.
As RePUBlic Gallery opens for the first time and The Kings Head takes on a new function, 'A Place for Sitting' reminds us of the important social and cultural history of our building.
There will be an opportunity in the new year to meet with the artist in the gallery to discuss and record stories of The Kings Head. More information to follow.
See our Instagram @republic_gallery for more regular updates about the gallery.